·
Premium Member (Lifetime), SRT of the Month
so, ill make this part short, i flew to NJ to pick up this car....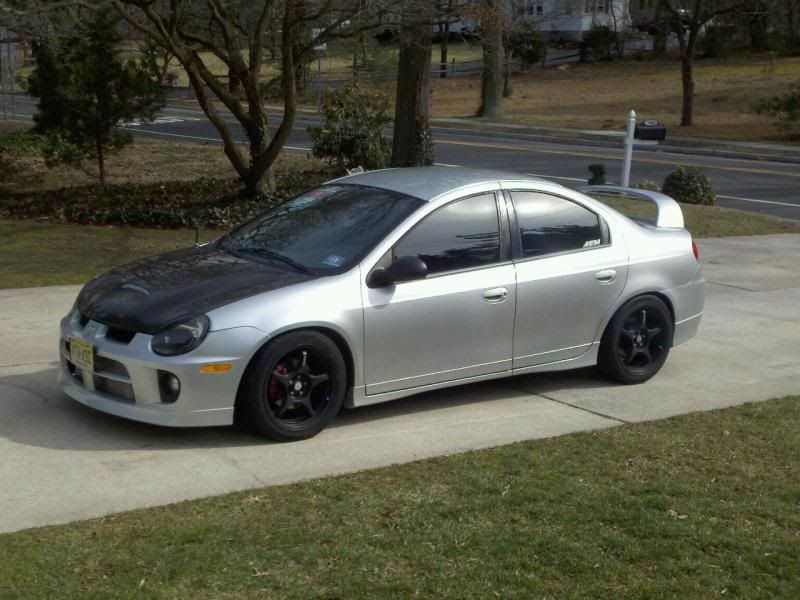 dude was kinda cool, he picked me up from the airport drove his car around.... i liked it so i bought it. (wife hates it.)
take it home, like an idiot i take it to the track the first weekend i get it all exticted, car on ooold drs that i got back in 06 runs 14.0 at 104, i was so pissed. i took it back to the house. next day i tear into it. find all kinda of dry rotted caps on lines, NO SOLENIODS, so slowly i start fixing things i add the soleniods back on boost spikes crazy.. the wg had so much preload it was sicking....
when i first got my car it had s1 pcm, fmic, clutch, borla exhaust 3in maxfabb d pipe, s2 injectors, mm inserts and fm wg off pcm control. 17 psi, took it to the track my best time was horrible on drs, 14.0 at 104(cant find the slip) 2.2 60ft
first mod i put on was the wot box, i wasnt breaking this trans like i did my 05(still think the 05 had crap trans)
then i added duster360 injectors, dsp, e85, 3 bar sensors, 22 psi on pcm control, wally 255 and wot box
here are my time slips, i was launching at 2200 rpm trying to baby the throttle. on drs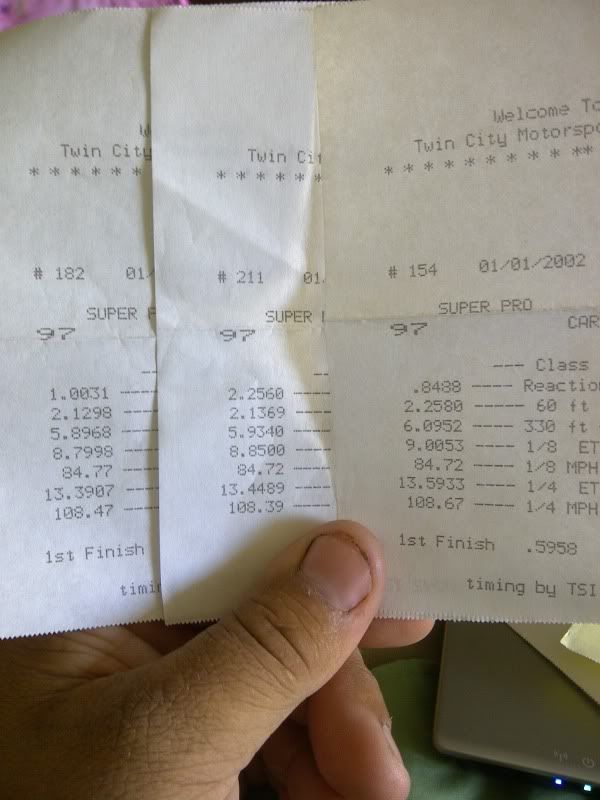 something was wrong i should of trapped higher for my mods. decided to get some slicks.
first pass on slick i ran a 12.9 at 112 i was having trouble with my 2 step not engaging, wot box(ignition cut) was off, i found this out later looking at the logs, i was launching at 4600 rpm, i bogged 2nd, and slicks where are 16 psi, i was chicken didnt wanna break an axle. this was done on base tune from duster360(FTW) i did add alil timing tho...
fyi humidy was like +50% and it was 95+%
not sure what i dyno, but im logging 23 psi on bone stock turbo. got some practicing to do with the slicks set up, im gonna go back in a mth, making sure the wot box works right, and lower the psi to 13. should be able to get a good 60ft, and hopefully run a 12.0
Well i went back the track with 68 degree weather got my new personal best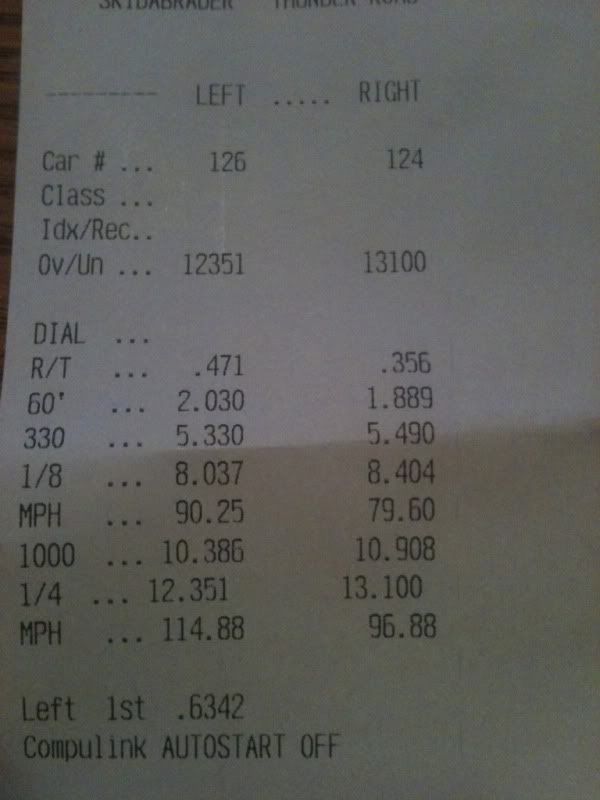 a week before this trip my brother and i went to cobb tuning in plano dynoed.. 4th gear pull, wow spiked some good boost.....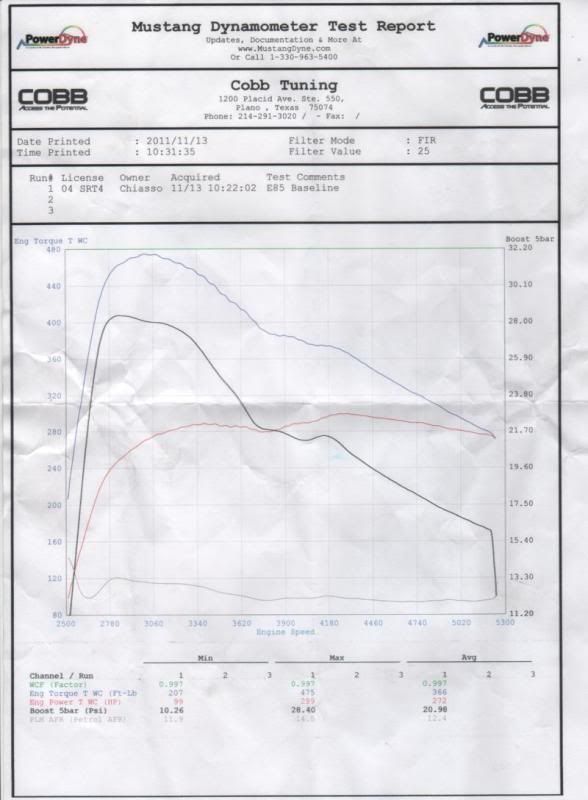 nov 19 2011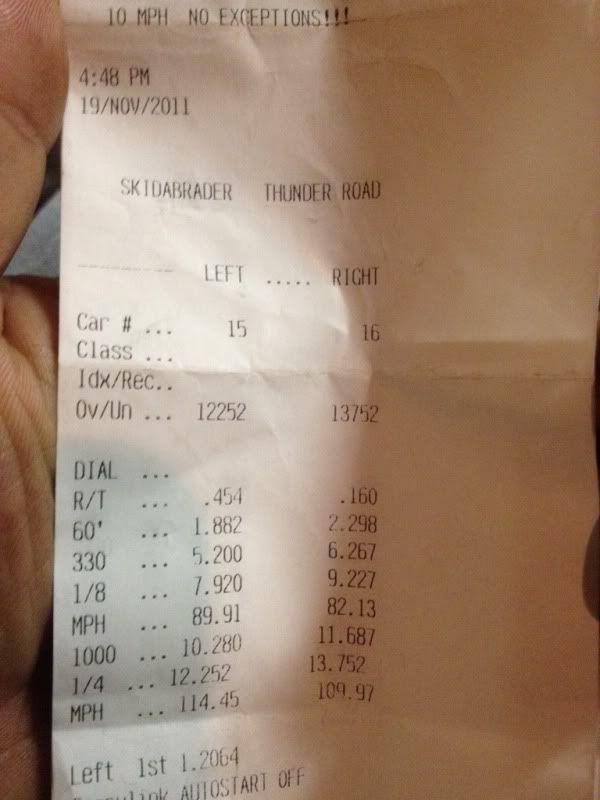 by the way, BIG THANKS TO M AND H on here, GREAT SLICKS HOOKED WELL
next my big step, in the wrong direction, i say this bc im POWER hungry.(NOTHING AGAINST MOLE(GREAT GUY:thumbsup
EVEN RHUNTER TOLD ME NOT TO GET THE BWS I WOULD BE WASTING MONEY, HE KNEW THAT WASNT GOING TO BE ENOUGH FOR ME) i quess i had alil more expectations for this turbo that what it had. I purchased the BWS, i figured i would be able to most def get into the 11s with the decent times i had on my stock turbo(by the way no tuning very minor fuel adjustments) this time i figured i would get duster to tune my car and let her rip. i tried the corvette fpr, for some reason it popped the first time i used it. so i bought an electronic fuel pressure gauge to see what fp i was getting. sure enough less than 20psi.... so i ripped it all out and got with real tune and ordered his FPR FRL kit... great product great service....
for those who want 330-380 whp(imo) the bws is a great turbo and spools well, personally i had NO problems with mine. just i wanted more, more, more... more than 330-380 you have to push the system to hard. egt rise and u giving it hell(imo) good product good seller, just wasnt enough hp for me..... i dont regret gettting this turbo i had fun and beat alot of cars....
first track race was at IFO in shreveport la, got up to line and wow....:flame:
i find out later threw alil research it was an auto zone axle, wow it made about 20-30 launches on slicks pushed my car back and when home to get another axle that a friend had....
round two trip to track(replaced driver and passenger side axle with mopar ones) was the day before a huge event, i figured the track was going to be hooking. i did figure it was going to be packed all up. i got one pass on my bws set up. i took a passenger ride(like an idiot more weight) any way i ran a....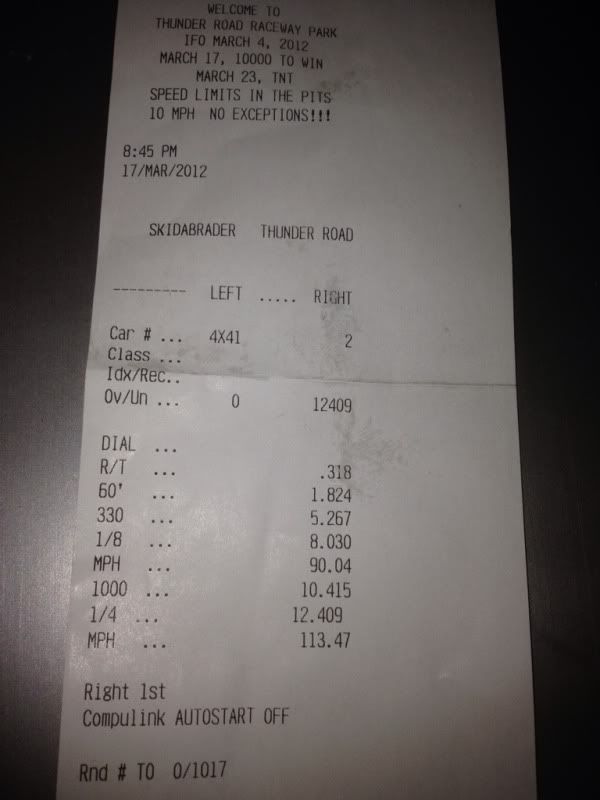 alot were disappointed. and most Laughed. but my car was at 215 degrees down the track it pulled 7 degrees. o well no excuses ill go back.
next trip but crack of summer kicking off no real changes to the car....100 degree temps with up to 118 iats. again no excuses...
now on to the fun stuff.... i talked my wife into letting get on the group guy with apg on the PTE 5831. she told me i had to sell my stuff first, well that didnt happen, i had intention on going back to the track on the bws and going for 11s again.... well DIABLO didnt let me do that. the big update made me force recal my pcm. and my tune didnt like the new verison of my pcm, guess i could started over tuning with duster. but i didnt want too. it was gettin hot outside some one pmed me to sell them my bws.....btw thanks to the buyer, enjoy........
current mods as of 11.11.12
Engine/Performance:
stock engine, intake mani, tb.
stock pcm
AGP PTE 5831
a/c delete kit
hondata IM gasket
ais bfmic
boomba cv
battery relocation(optima blue top)
battery delete tray
3 bar sensors
3" tbe.
cti hs pipe
hks BOV upp
Drivetrain/Suspension:
agp billit shift selector
apg 3rd gear extender
ss clutch line
act street hd w/alum. fw.
bc co
maddog ss
Prothane Total Suspension Bushing Kit
tq sol MMs
street - stock rims powder coated black
strip- 15x7 rim and M&H 24.5 slicks
slotted rotors
hawks pads
darksyde traction H brace
Fuel:
E85
fic 1100(soldered pigtails)
inline 044
realtune FRL
10 gal fuel cell
-6an feed and return line
Electronics:
wot box
boost box
Intune tuned by DUSTER360
aem AFr failsafe
greddy fuel pressure gauge
greddy oil pressure gauge
greddy boost gauge
Accomplishments:
• stock turbo 12.25 @114.8 25psi dyno 299whp 475wtq mustang dyno.
• Bws turbo 12.10 @116.97 25psi
• PTE 5831 11.69 @124.10 24psi
• PTE 5831 11.19 @125.60 27psi
• BWs256 10.99 @132.23 28psi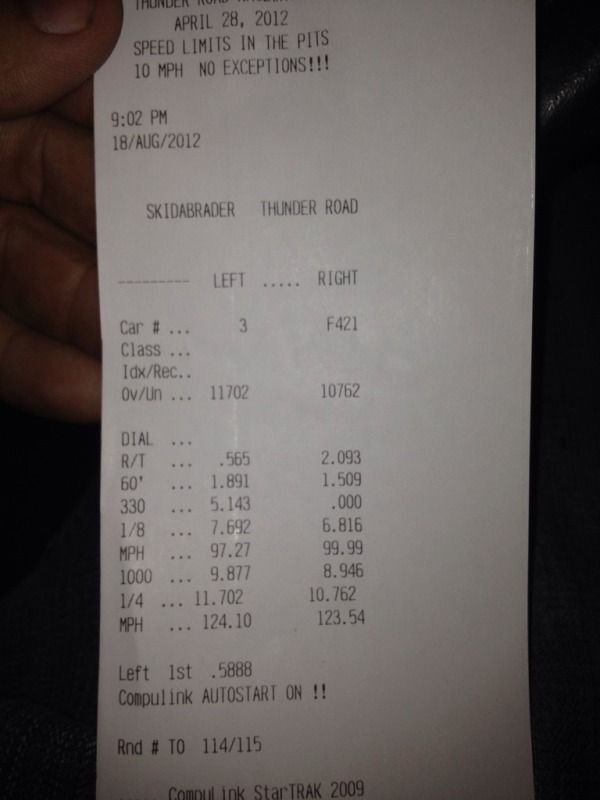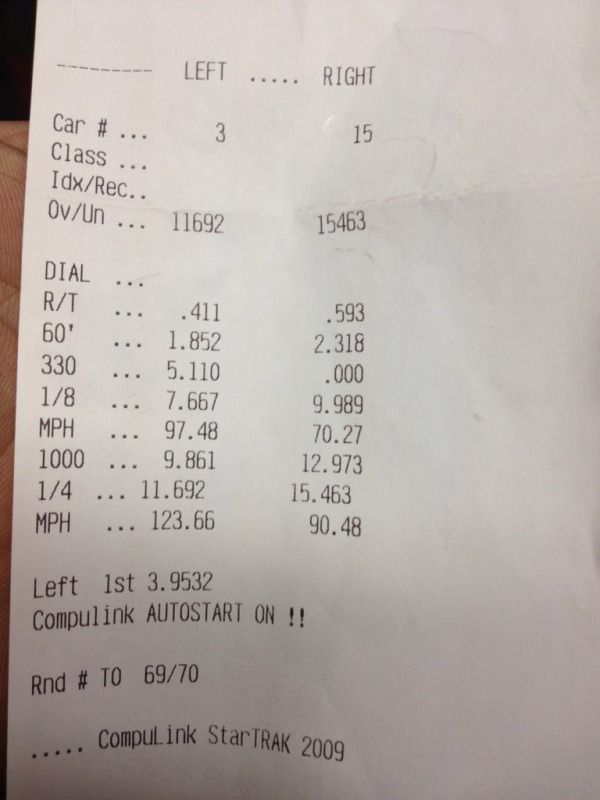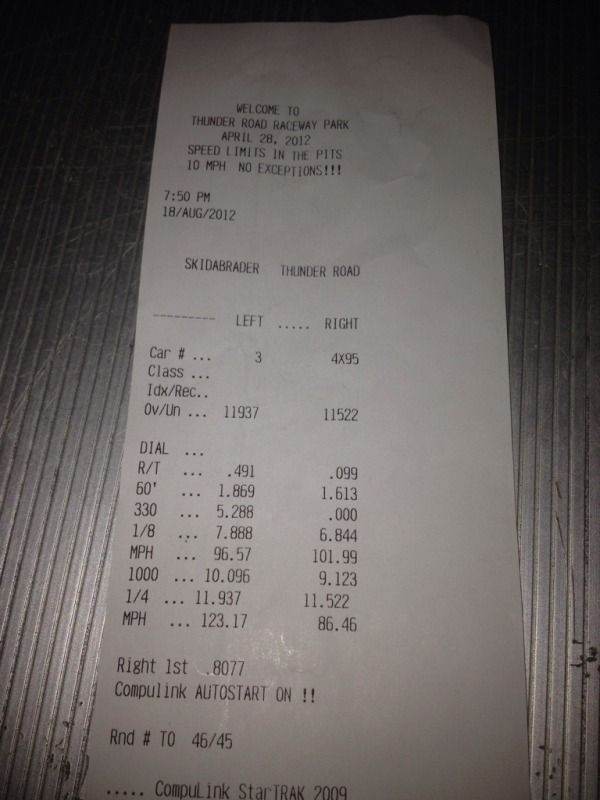 added Darksyde traction H Brace. and some cooler weather...