Everyone should know that testing their fuel pressure during WOT is the not only the best way to determine if there is any issue with the fuel system but it is often the cheapest, quickest and easiest.
Unfortunately, many of you silly noobs think its a nearly insurmountable task and its last thing you'd ever do when diagnosing a suspected fuel system issue. I think it was Quennan that posted the other day that if you asked someone on the forum to test their WOT fuel pressure it was as if you asked them to do advanced calculus. Its not hard, in fact, its very easy and NO you don't have to buy some dumbass ricer in car Gauge.
IMO you should have the means to test fuel pressure at the fuel rail BEFORE you ever think about installing a fuel pump.
First off, get yourself a decent gauge. No liquid filled, cheap pos 1/2" diameter play toy you find on most regulators. Get a real gauge- 2.5" diameter or bigger, 100psi minimum. Every autoparts store has one type or another in stock and you'll find them all over Ebay. Should be less than
$40
Even this cheapo from Harbor Freight will do
: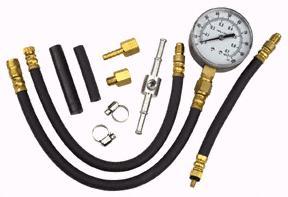 If you have a 2003 Srt-4 you're pretty much done. This is because 2003s already have a schrader valve port on their fuel rails.
On 2004-2005, most guys are completely stumped and dumbfounded as to how they could ever tested their fuel pressure at the rail since is no pressure port there. But don't you think Mopar had a plan for this?!?! If you simply look in the Factory Service manual, you'll see Mopar's nifty solution-->
Miller Tool 6539
.
A quick Google search finds the EXACT part you need for less than $35 :wah?!: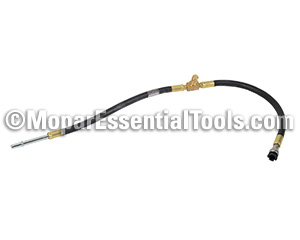 Miller Tool 6539
You're not quite done yet. You really need to see the gauge while driving but most gauge kits you'll find for less than $50 only have ~2ft hose, which won't get the gauge out from under the hood. Don't give up yet noob, hope is not lost.
Luckily, old R12 refrigerant hoses use exactly the same fittings and are practically indestructible.
(size 3/16 45deg flare, 3/8-24 thread)
IT IS NOT, I REPEAT, IT IS NOT AN -4!!! THE PROPER SIZE IS 3/16 45DEG FLARE
A 3/16 45degree flare splice from your local hardware store
+ a
$10, 36" long R-12 A/C hose
either new or off an old A/C charging set works great to extend the fuel pressure gauge to where ever you need it. I prefer just to tape it to the windshield to test WOT fuel pressure.