I recieved these from BC Racing for a recent magazine tech install, I decided that since they are (will be) marketed for the SRT as well (they were built for the SRT-4, but since they are identical "chassis", we used my car for the article), I would post a review here as well as the other site I frequent.
These should be available through PTPerformance within the next two months.
Ok, so I put thes on the car expecting to have my teeth rattled out, however on the softer settings (1-6), the ride is quite enjoyable. Turn in is gone, no more nose dive during braking, no more of the rediculous body roll that the Neon is infamous for.
Crank up the settings to above 7 and beneath 10, and the suspension starts giving you feedback, you begin to feel a little more undulations and pavement problems, but still not overbearing. At this point the car refuses to feel loose in any way.
10-18 is nearing a jarring street ride, but would be a forgiving setting range for the track.
Any setting AT ALL above 18, and YOU BETTER HAVE THE TIRES FOR SOME SERIOUS GAMETIME. I would recommend settings 20-32 for track time only, if you don't have the tires for the serious settings, you can get yourself into trouble quick.
I pushed REAL hard through an S-turn, on my Toyo's and got some ass sliding action, if I wasn't ready for it, it could have been ugly.
The spring rates that come stock are perfect for a balance of performance feel, and a tight undercarriage. I initially was going to ask that mine be softer, I'm glad I didn't, but I wouldn't want it to be harder either.
I will admit that adjusting the inverted mounts via the damping control knob (on the bottom of the shock since the strut rod is upside down) is a little difficult, being that on the front it is kind of blocked by the axle, you can get to it, it's just difficult. Adjusting the height is a procedure, however because there is a seperate adjustment on the strut body for heighth, and another for spring pre-load/pre-tension, it is VERY easy to put the car EXACTLY where you want it, just set the car on the ground, drive it around the block to get the tires flat, and measure, and adjust from there, once you do that, you never have to touch it again.
Overall, no quirks, no problems, install was very smooth, and I love them. If I was in a position to purchase a nice street/track friendly suspension, these would be VERY high on my list, and at these prices, I don't think I would bother anywhere else.
Let me know if you have anymore questions. I will post after pics next week as the car is dirty and I just don't have time, however look for the whole install in a month inside S3 Magazine, go to thier website to see where you can pick one up.
www.S3mag.com
Here are some install pics, and closeups.
Install pics, I will post pics of the car done and sitting on the ground next week.
My buddy, jacking my car (hehe, jacking).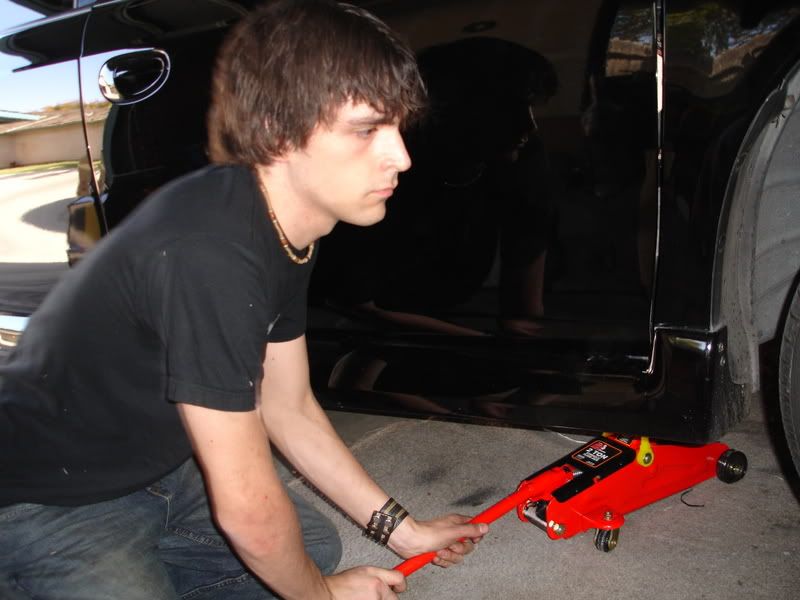 Out with the old.....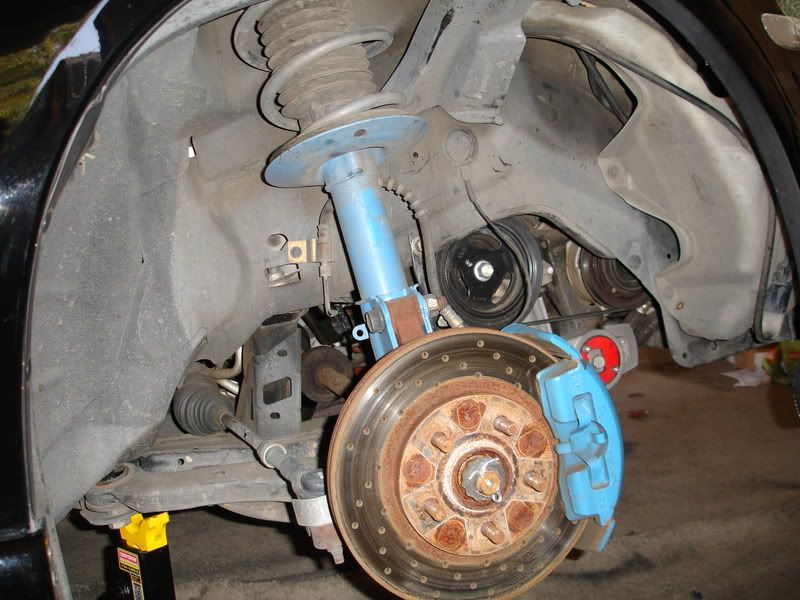 In with the new.....