Get a set of adjustable Lower Control Arms (a set is 4 arms) to solve your right rear from sticking out and the excessive camber that happens because of the "sticking out".
The heim joint LCAs will even improve your handling even more.
The 2 new left LCA arms will be set to the same length as the left rear stock LCAs.
The remaining 2 LCAs will be set 1/4"-1/2" shorter. You will need to experiment in that 1/4"-1/2" range to see what is best for your car's configuration. Toe adjustment will also be set with the new LCAs...I use zero toe angle on my car.
I bought my heim LCAs from "MannyZ" a decade ago but DCR sells the heim, or more expensive poly LCAs in ebay.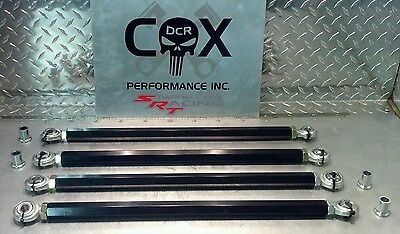 Black HEX Aluminum. Complete set (all 4) to do both sides of rear. Makes the struts work better for handling. Hard anodized aerospace aluminum rods with all steel rod ends with jam nuts. No Teflon in rod ends.
Steve