J Huang
Santa Cruz, CA, 95060
[email protected]
$60 each/$110 both (2)
OEM Timing belt tensioner's
Both used for mocked up purposes, zero miles.
Seals $15 / Sensors $20
Water Pump/Thermostat/Spark plug seals/Mopar MAP & TIP sensor
Seals new, never opened. Sensors have roughly 10k.
$50
Fuel Pressure Regulator

Roughly 10k, zero issues, comes with all seals.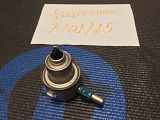 $40
04/05 Fuel Rail

10k, zero cracks, 100% working condition.
$30
Mopar Spark Plug Wires

2 oil changes, 100% working condition, went with coil on plug.
$65
Airbag
Never deployed, 10/10 shape. Removed for weight reduction.