Discussion Starter
·
#1
·
On Sunday, June 4th, 2006, Chedwick (C.D.) Kring passed away, as a result of injuries sustained in a tragic motorcycle accident here in Jacksonville, FL. Those of us in the local sportbike and racing communities knew C.D. as a warm, gentle and inspiring man. He was kind and genuine, and truly knew no stranger. No matter what was going on in his life, he greeted everyone with a shining smile, and warm hug, and he did all he could to educate others in the community on the importance of riding safety, and personal protective gear.
While riding was his passion for many years, his life was even further enriched by the birth of his twins in 2004. Chase Dean and Carah Alyssa were more than just the apple of their father's eye, they were his world, and every thought and decision he made was done so with their best interest at heart. There were no lengths he would not go to in order to ensure the best of everything for his children, who are now left without their loving father's guidance and support.
On June 24th, 2006, we held the First Annual Ride 4 CD,to benefit Chase and Carah. With the help of generous sponsors, we were able to raise over $5,000, which has been placed in a trust for the children. The outpouring of support from the community was over-whelming, and now we are in the process of organizing the Second Annual Ride 4 CD, in hopes of surpassing last years success, and trying to reach our goal of $7,000. The ride will be done poker-run style, and will be held (rain or shine!) on Saturday, June 23rd, 2007.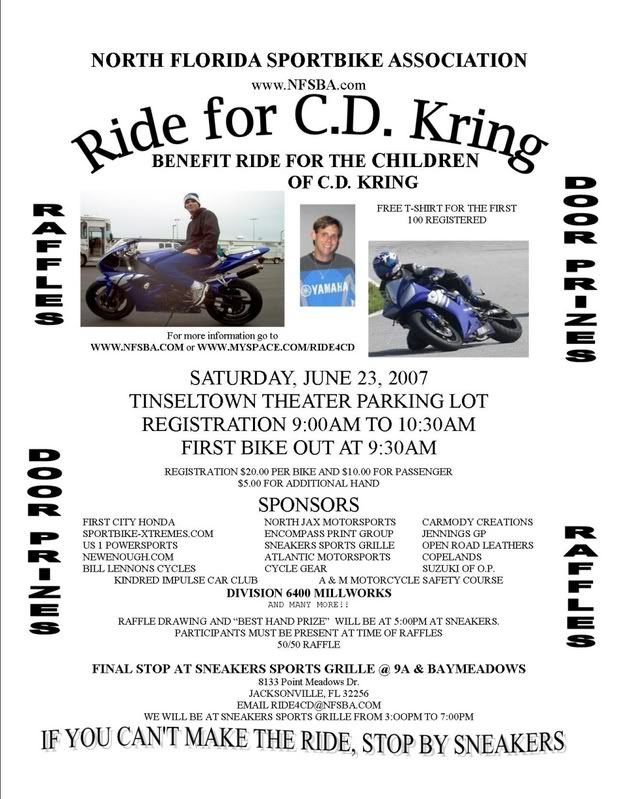 I'm one of the organizers for this event. While it's mainly geared towards motorcycles, it is open to cars as well. Last year we had about 20 cars come out and do the ride. It's for a great cause and we have over $5000 worth of prizes that have been donated. I'd love to see some of the guys & girls from here make it out. Let me know if you have any questions.