Hey guys hows everyone doing?Well I know I wasnt doing too well when I found out a wire came out of my TPS harness when I was installing my SAFC-II the other day so it had to be fixed asap.My car threw me the P0123 code and of course it was running like shit,so I immediately ordered a TPS Repair Kit.It was $20.00 for the kit from Mopar Super Center (
Mopar Supercenter - Not Your Average Discount Mopar Performance Direct Connection Parts Store!
) and the shipping was fast.You can order these from Turbo Neon Store also,and a couple other places im pretty sure but Mopar Super Center was the cheapest I could find.With that being said heres what your going to need...
Tools your going to need.
1.) Snips
2.) Wire strippers
3.) 10mm wrench
4.) Soldering iron (preferred)
5.) Flat head screwdriver
6.) Lighter (for heat shrink)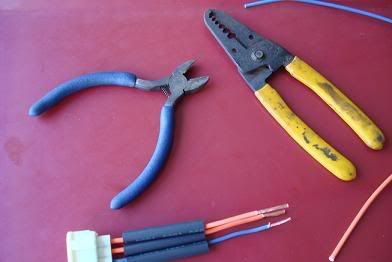 So you get your kit in the mail,it should look like this...
It should have 6 wires in it,3 blue 3 orange,one white connector piece(piece that connects to TPS sensor),heat shrink and a bunch of little copper things used to crimp with(I wouldnt suggest to use these copper things).
First things first disconnect the terminals on your Battery with your 10mm wrench.
Your connector should look like this...
With a small flathead,pull the yellow piece out of the connector.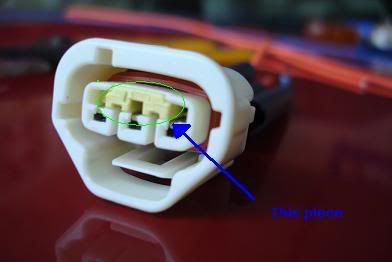 You are going to be using two Orange wires,and one Blue.The stock connector uses 2 Orange,and one Black so were substituting Black for Blue.Look closely at the connector and you will see the holes on the connector where the wires go into are labeled 1-3.The Blue wire goes in hole 1 and the other two Orange wires go in 2 and 3.So it goes like this...
Blue Wire - Slot #1 on connector
Orange Wire - Slot #2 on connector
Other Orange Wire - Slot #3 on connector
Slide the wires into the correct slots on the connector until you feel them lock in,then reinstall that yellow clip you took out earlier.
Now I know your thinking.. "How do I know which Orange wire goes where on the harness?" Ill tell you.If you look at your stock connector in your engine bay,the orange wire in the middle of the connector (Slot #2) has a Black stripe on it so what I did was I made a Black stripe on my new wire,on my new connector coming out of Slot # 2(middle connector),heres a pic of what im talking about...
Notice the Black Stripe?Good,this way you know which wire goes where when you Solder the wires together.
NOTE : I cut the wires short because they were like a foot long which was WAY too much wire for what I needed it for,you might want to do the same.After you cut them strip the wires a good amount(pictured above) so you will have room on the other wires under the hood to solder to.
With wire cutters(snips) cut the stock wires going to your TPS connector and strip the wires just as much as you stripped the wires coming out of your new connector.It should look like this...
Now its just matching up wires and soldering,the wires go like this...
NOTE : Before you start connecting wires to wires,put the heat shrink on so you can make it look all nice and clean after the soldering,not needed though.
Blue - Black
Orange with Black Stripe - Orange with Black Stripe
Orange - Orange
Your connector should look like this before you start connecting wires...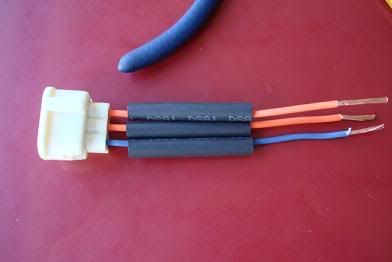 Heres what it should start looking like,notice the soldered connection...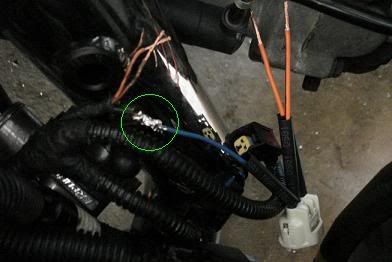 Once all connections are soldered,slide heat shrink over soldered connections and heat with a lighter or heat gun (not required but looks real nice!!).
After this is done make sure everything looks and feels good then reconnect clip to TPS sensor,and reconnect battery terminals and you should be on your way.The end result should look like this...
I used some wire loom to clean it up even more ( im a neat freak :thumbsup: ) but you guys get the idea.
If anybody has any questions let me know,I know it may seem like alot but its VERY simple and it doesnt take a Rocket Scientist to cut and solder wires together.I know alot of people have had problems with their TPS sensors/connectors going bad and I didnt see a how-to so here it is.If I help one person then I did my job.:hi:
-Frazier
~P.S. Heres a direct link to the repair kit on turbo neon store!
SRT-4 Performance Parts Dodge Turbo Neon - SRT-4 TPS Wiring Repair Kit
And heres MSC's!!
SRT-4 TPS Repair Harness
Hope this helps!!