Moderator Edit:
3 pics recently added.
Materials:
10 gauge wire
10 gauge inline fuse (w/ 30amp fuse..sold separately)
Female connectors
30amp fog lamp relay
Electric tape
Tools:
Snips(to strip wires)
Pliers(To crimp down female connectors)
13mm wrench /or/ Pliers(to loosen alternator terminal bolt)
Ok so you can either do this which is the homemade on a budget way, or you can get the ptp kit from ptperformance.com which is awesome but i don't have $80 i wanna spend, so this should keep you around $20....
1) Pop your hood, disconnect your batteries positive+ terminal with a 10mm socket, then walk over to your passenger side fender and face the engine, look at where your belt is and right back and down where your coolant reservoir is located there is a small tight fit gap just enough to stick your arm down in if your as skinny as i am, there is the big heat shield, then there's another little one with 2 bolts on top of it i believe its an 8mm and a 10mm take those off and pull over the shield.
2)There is a terminal/bolt on the alternator, it is covered with a black plastic cap, pull this off, now get your 13mm wrench or pliers and loosen the nut, take it off.
3) Get your 10 gauge wire and go down about 10inches or so and cut it, put in your inline fuse with the 30amp fuse in it as well ,either crimp the connections or tape them up.
4) Get your 10 gauge wire and crimp on a connector to go around the stud and that can be clamped down by the bolt for a good power connection, then tighten back up.
5) Now run your 10 gauge power wire down under thru the car keeping in mind to stay away from hot lines or anything moving, then jack up the car or roll it up some ramps in the front and get under the car, find where the fuel lines are in the holders running from the front to the back of the car, there should be an open slot, feed the wire thru there and run it back to the gas tank, then stip it down at the end and twist it tight, crimp on a female connector, then put on battery terminal, back off the ramps, take them and put them behind your rear tires and back up on to be able to have room under the gas tank to work(if your using jack stands then this doesnt apply to you)
6) Now look at the bottom of the gas tank, there is a white circular thing thats got a wire harness around it, find the wire that is green with the white stripe, cut it, strip both ends down, then crimp on a female connector to the fuel pump side of the wire you just cut and crimp one onto the harness side of the wire you just cut (both ends).
7) Now there should be a black ground wire that is by itself sort of above the wire harness, get a 6inch piece of any sized wire and strip both ends down, tap into the ground by just simply wrapping the wire around the ground wire, then on the other end of the wire you just used (the 6inch piece) crimp on a female connector.
8) Ok no get your relay and look on the back, make sure by each male prong there are numbers......there needs to be an 87,86, 85, and a 30....ok now.......and it goes like this ---->
#85- Connect on the black ground wire
#87- Connect on the fuel pump end of the white/green wire
#86- Connect on the harness end of the white/green wire
#30- Connect on the 10 gauge wire from the alternator
Now tape it all tight so nothing gets wet or is too exposed to road debris or water, then put it up so its not hanging down.
9) Go under the hood and put back on the positive terminal to the battery, and close hood
10) Go into the cabin and insert key, turn to click right before you twist to start it up (2nd click) wait and listen for the fuel pump to wine, then when it stops, start 'er up and let 'er run for awhile, then take it for a drive and see what ya thank!!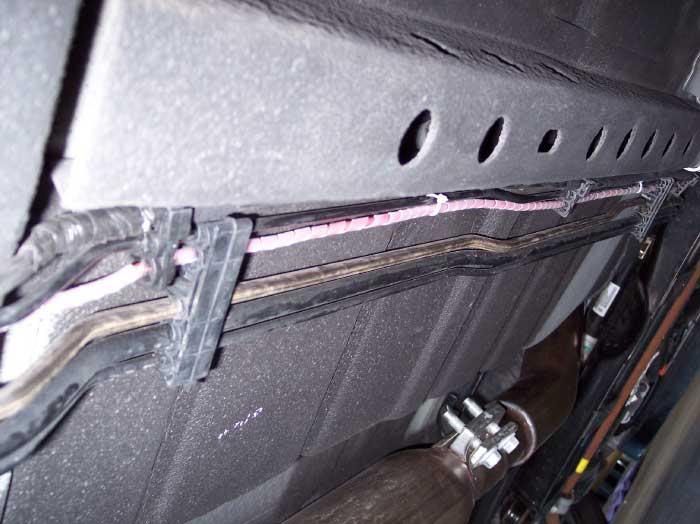 Moderator Edit: Disregard the OP's next statement. Pics added from other thread.
Pics to give you a better visual on what some of these things look like, go to forum, scroll down to the HOW-TO: forum and search it for fuel pump rewire, go to the one that when you open it up has red x's where pics should be, go to the 8th page and scroll down, it'll be there......this is a great mod and i hope this helps people as it did myself!!! good luck:clap: