Reason for this mod:
K&N (and some cheap ebay ones) have a weak elbow, and collapses at high boost, which cuts off the air flow.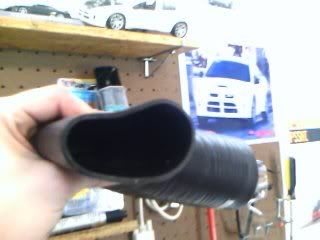 Look how easily I can squish it. Think of what the turbo does to this thing when its sucking in all that air!!!
Note: I use all Spectre parts because I could not find a nice 90deg. elbow anywhere locally (if you can find a nice 90 deg. pipe that will work, great). So I went to my local AutoZone and Checkers and came out with these parts. I took it on about 10 hards runs back to back and the new pipe was not hot at all and was able to get my power back after 5k. Came to about 20 something dollars. You could ultimatly sell your K&N intake and buy one that doesnt have a rubber hose like show above, but I didnt want to go through the trouble of selling it and buying a new one. Yes, I could of stuck the stock air box back in.. but I like my room in my engine bay for my IC Sprayer tank and Catch Can.
Items Needed (also lettered for better part reference)
A. Spectre 90 deg. elbow (3" diameter) #8698
B. Spectre Straight Extension (3" diamter) #8708
C. Spectre 3" to 2 1/2 "Coupler Kit" #8771
D. Spectre 3" to 3 or 2 1/2 "Coupler Kit" (this has an insert so you can use it either as a 3" or a 2 1/2" coupler) #8731
E. Flat Head Screw Driver
F. Hand Saw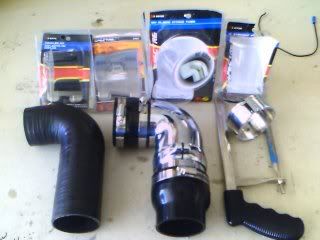 1. Remove your rubber 90 hose off of K&N or other brand intake.
2. Connect your 90 deg. elbow (a) to your 3" to 3" / 2 1/2" coupler (d). This will be what connects to your turbo.
3. Now connect the extension (b) to your 90 deg. elbow (a). Instruction on how to connect them properly are included with both pipes. Make sure to use the rubber ring for air tight seal.
4. Now you may or may not have to remove about 1" of plastic pipe from your extension, but I had to with the K&N intake (so measure first and see what and if you need to cut this off)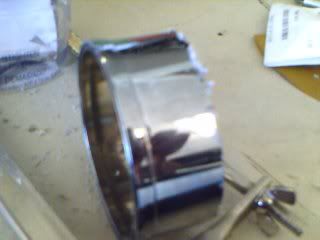 5. Now make sure not to over tighten your clamps (it says
dont over tighten
on the package also)
Side Note: I checked the worm clamps provided and I couldnt get them to stay tightened. So I bought some TBolt clamps. I didnt tighten them very hard over the spectre intake part. Because you can def. be able to break something with those clamps. Still works great and I LOOOOOOVE the stolen power.