If you are tired of those annoying solenoids taking up space in your engine bay, making it all cluttered, this is for you.
First things first, you must have the following mods to do this:
Aftermarket wastegate actuator
*EDIT: after some speculation with a fellow i have removed the aftermarket bov requirement as it is not totally necessary.*
Or a big turbo kit, that will take care of it too.
The total cost of this mod is a whopping $1 (for the resistors)
Materials needed:
Electrical tape
(3) 33 ohm 1/2 watt resistors
Vacuum line
Zip ties
Tools needed:
Knife (to cut vac line)
Zip tie tightening tool (a must have, period)
Now with the procedure.
Go to RadioShack, and get a pack of 33 ohm 1/2 watt resistors, be sure that they are NOT 33k ohm. If they don't have them there, find a local electrical supply shop and get them there, or they are all over the place on the internet. See pic below.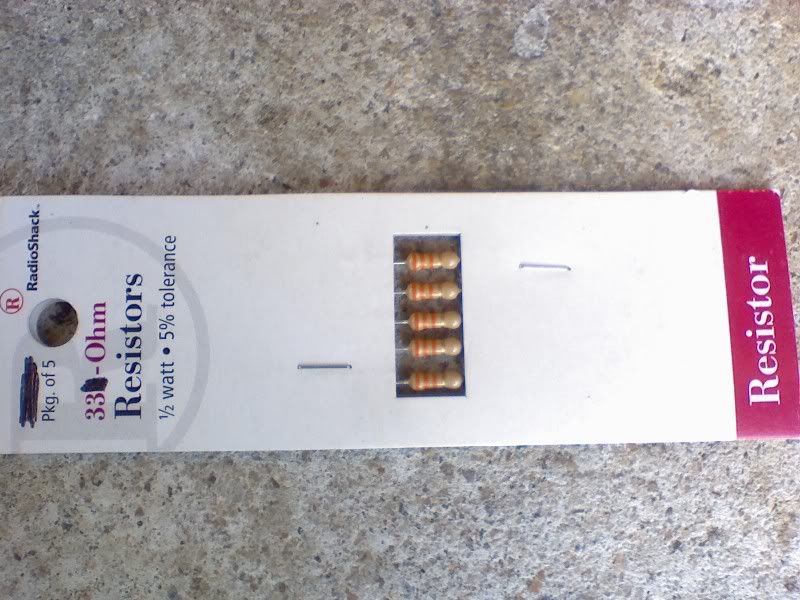 Then go to the car, take out the blue, black, white, red, pink, green vac lines out if they are still there. Refer to one of the many vac line diagrams to see where everything should go. Run your new vac lines, zip tie them, and then tighten the zip ties with the much needed tightener. For the people wondering about taking out the red and white lines for the tip sensor, they are not needed, with it not on a vac line, you wont get PTB codes anymore, and it will not cause any adverse effects, its only purpose is to make sure theres a pressure difference between before and after the tb. Then unplug all the solenoids and box them up. Then take one resistor, bend it up so that it fits into the plug that was on the solenoid tightly. See pic below.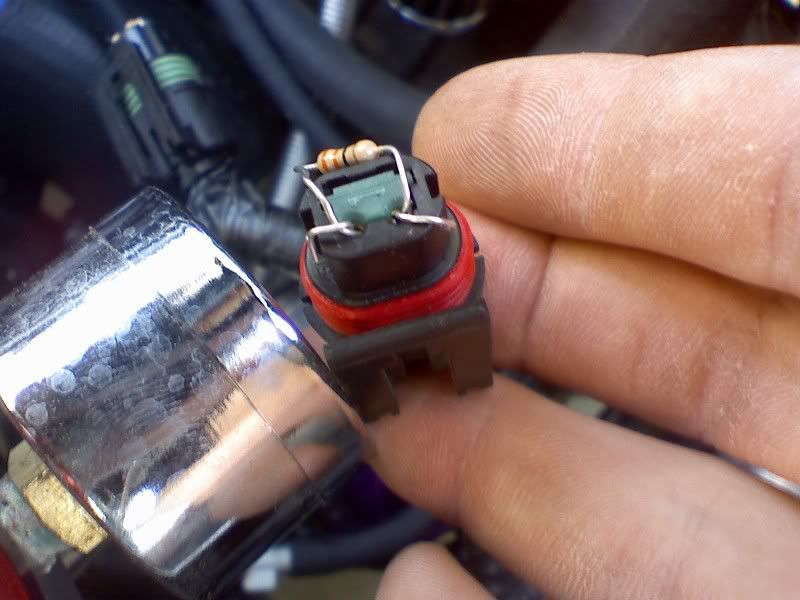 Repeat for the other solenoids.
Now, all you need to do is wrap up the plugs and tuck them away. Be sure not to let either side of the remaining wires on the resistors to touch, this will fry your pcm and battery. Put a generous helping of tape on there just to be safe. See pic below.
Now, just tuck them away, i put mine in the little slot behind the driver's side headlight, out of sight, out of mind.
Here's the vac line diagram you want to use for this mod: (ignore the white line on the right side, that can be removed too)
Now you have cleaned up the engine bay a bit, and best of all, NO CODES!
Just for reference, heres a pic of my engine bay, as you can see, i have some other crap where the solenoids used to be.
For the guys that want to know how this works, its simple. The solenoid has a certain resistance between the two pins on its connection. You can confirm this with a standard multimeter set on ohms(resistance) and put the two electrodes on the two pins. This resistance is 33 ohms. So when you put the resistor in the plug, it simulates to the pcm that the solenoid is plugged in, thus no codes.