Ok, many of us were waiting a LONG time for another forum member to post his how-to on how he got his dash lights to light up red. the major point was that until he had done it, pretty much nobody could figure a way to make the dash light up any of the red spots with aftermarket bulbs. well, i got sick of waiting and i figured it all out on my own by paying attention to the small details that other forum member said when he posted the pics. for those of you who dont know what i am talking about, it is this thread right here:
click here to see the original thread
i did this and i had blue LED's in mine and it worked okay, but i have had blue LEDS in for so long now i got bored with them and just decided to go with white....i used the plain old incandecsant style bulbs, but the incandescant bulbs give off a slighly yellowish glow. i will be switching to white LEDs to fix that, but for now, heres how it looks....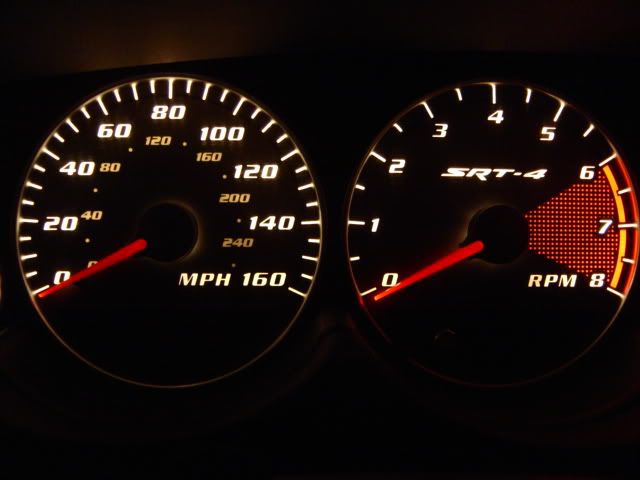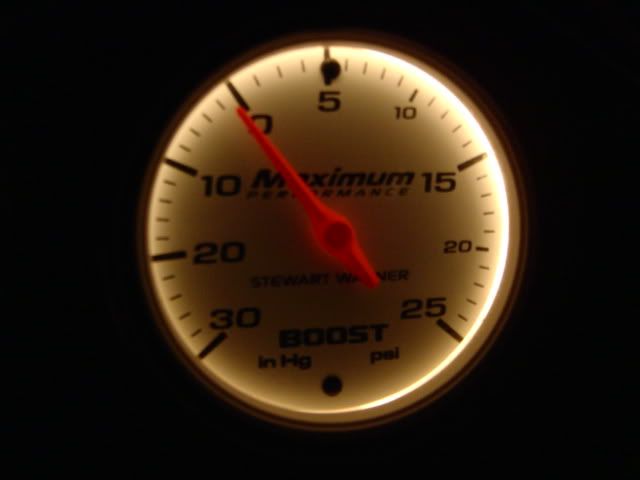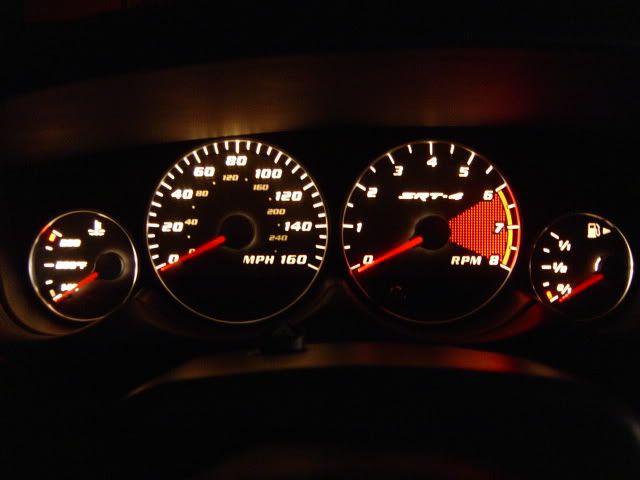 here's the NEW pics using autolumination.com's superstar LED's in WHITE:
(pardon me for my wobbly hand, the pics are a little unclear, but you can tell a BIG difference between the LEDs and the factory incandescants now that you have pics to compare)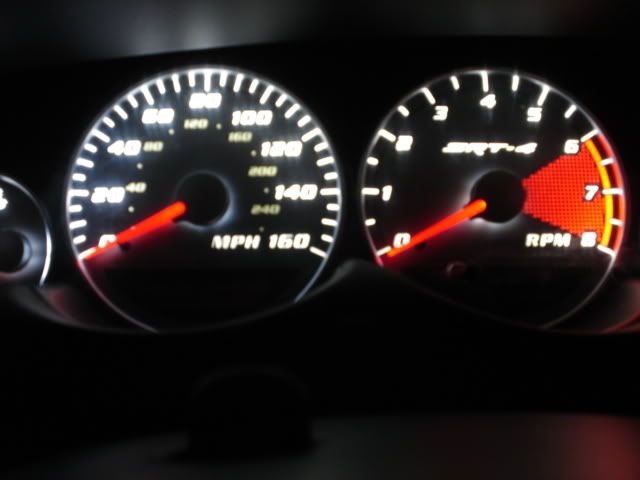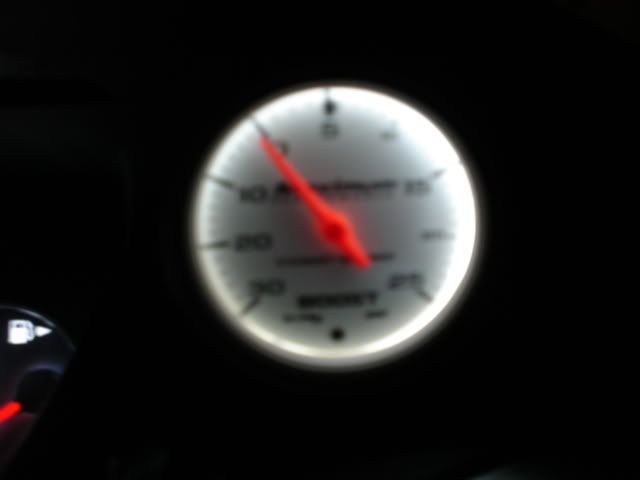 ok, here's the deal...I TAKE NO, i repeat NO responsibility for each forum members individual results. This How-To is simply based on what worked for me, ans in NO WAY should be attempted by anyone who is extremely nit picky about small details such as if your needles are off by a millimeter...cus they will be when you are done...beleive me.
for the record, my needles are just a teeny bit off now cus it was very difficult getting them zeroed back properly. i have run past two of those radar signs that show you your speed and each time i passed it, my MPH was about 1-3 mph high on my gauge vs. what the sign said. also my car idles at "900" rpm now instead of the original 800-850. i know it sounds gay and shitty, but i wasnt prepared for that, so i want to let you know that it is possible that your gauges will lose a little accuracy by fucking with them. it is totally up to you if you decide to proceed with this mod, but i was very pissed about the accuracy thing, so i wanted to warn everyone first.
(IF ANYONE KNOWS HOW TO ELECTRONICALLY ZERO THEM BACK OUT, PLEASE PM ME THE PROCEDURE AND I WILL ADD IT TO THIS HOW-TO TO SAVE EVEYONE THE HEADACHE.)
that being said, heres what to do!
1-remove both a pillars by pulling them until the pop out
2-remove dash cover by one screw on each end and two screws in center window defroster. then lighly pry up on cover, it will pop out of place.
3-disconnect boost vacuum reference and wire, pull complete dash cover assy out.
4-remove upper instrument bezel by prying up on two tabs located at the top two corners of the instrument cluster, then the bottom.
5-pull down on lower bezel by prying out tabs one on each side near the blinker and washer levers. there are also two screws at the bottom if you want to take it completely out, but it isnt necessary, you only need to move it a little bit.
6-remove 4 screws from instrument cluster and pull cluster out of place. it pops right out. DO NOT PLACE CLUSTER IN ANY POSITION OTHER THAT IT WAS ORIGINALLY FOUND....LEAVE IT UPRIGHT!!!!!!!!!!!!!!!!!!!!
7-take cluster to a plce where you can comfortable work with intricate details, such as a well lit desk or kitchen table.
8-using a torx driver ( sorry, dont know which size...mine arent marked with sizes) and remove silver screws surrounding the clear plastic. there are six of them if my memory serves me right.
9-DO NOT PERFORM THE FOLLOWING STEP IF YOU DO NOT THINK YOU WILL BE ABLE TO FINISH THIS MOD!!!!!!
10-using two flat head screwdrivers, stick on under the center of a needle and the other driver 180 degrees from the first one. lightly and slowly pry the needle off. repeat for the other three needles.
11-using a straight razor blade, slide it under the laminate cover that has the numbers printed on it. it is melted into place, so you will want to use a marker or wax pencil to mark its original position for later. slowly and carefully use the razor to cut the melt spots off and remove laminate.
12-clean up all excess material with razor.
13-take a piece of masking tape or other tape and mask off the area where the odometer is. do the front AND the back. this area is very sensitive to scratches and may be damaged in the next step if you dont protect it. if you are planning to change the color of this as well, do not mask it off.
14-using progressivly finer grits of sandpaper, sand off the paint on the back of the laminate. i started with 400 and finished with 1000. if you plan to change the color of the odometer, you will need to go much finer than 1000 to retain clarity. i would recommend no less than 2000, but if you can go finer, do so. you may also want to finish this area with regular car polish and wax to fill in minute scratches. i highly recommend wetsanding the laminate so you can keep it clean and see what you are doing. sand all of the areas you want to change to color of.
15-once the areas you want to change are completed, clean the lamonate thoroghly with warm soapy water. the oil from your hands will ruin the next step if you didnt clean it enough.
16-mask off any areas you do not wish to be your intended color. also mask off all of the indicator lights, such as ABS, BRAKE, CEL...all thsoe ones. the lights for those are colored LEDs and you wont be changing the color of them unless you change the bulb itself.
17-this is where it gets a little extra tricky. if you are not a painter, you might want to have someone else do this. mix an acylic based paint very thin with water. of you want to use enamels, make sure to use plenty of thinner and clear coat. if you do not use enough water/thinner-clear your coloring will be too opaque and light will not pass thu it. you can bruch the paint on if you want, but it will look like shit. i used and airbrush. i highly recommend you do this. if you do not have one, find a tatoo shop. nearly all tatoo shops have airbrushes. pay the guy to do it for you or ask if you can use his equipment and make sur eyou reimburse him for his time.
18-remove mask and repaeat as neede if you are doing multi color arrangements.
19-place laminate back on cluster and line it up with marks. i used tape all around the edges to hold mine in place in case i ever decide to change it again, but if you think it is going to be permanent, you can use some sort of permanent glue. i do not recommend super glue due to the fact that it melts and fogs plastic and may totally ruin your project.
20-this is the shitty part. take the cluster in its unassembled state and put it back in the car. bring the needles with you. install it in the car and turn the ignition on ( no need to start )
21-place the MPH and RPM needles back on the spindles LIGHTLY. you will have to place them a little over, since there is a weight in the needles and when you let go of it, it will sag a little. for example, place the MPH needle at about 3 MPH and whn you let go if it, it will go near zero. YOU MUST DO THIS LIGHTLY BECAUSE IT IS A TRIAL AND ERROR PERIOD AND IF YOU PUT THEM ON TOO FAR< IT WILL BE DIFFICULT TO GET THEM OFF AGAIN. repeat until you have them zeroed out or as close as you are comfortable with. turn the ignition off and let them set on the stop pins. turn ignition back on and ensure they go to zero. if they do not, then repeat as needed to get them there. hopefully you didnt run the car, cus unless the engine is cold, there will be no way to zero the temp gauge. for the fuel gauge, since the fuel reads when you turn the ignition on, you wont have a good reference point, since there is no zero for the fuel. what i did was i went and filed up completely and then placed the needle on the full mark. so far it seems to be working properly.
22-once all needles are place properly, remove cluster and replace the clear cover and the torx screws. reassemble the car.
once complete, you should be rewarded with a very custom look that noone can get with bulbs alone.