I have been working with VEI (vGauges) regarding a custom designed instrument cluster. We've thrown together some ideas... and here are a few designs that we've come up with. Please vote and let me know what they should go ahead and build.
Tach and Speedo in normal location with functional bar graph. Two side gauges with functional bar graphs. Two upper corner gauges with no bar graphs (we thought that bar graphs on the upper corner gauges would be too busy - however adding bar graphs is still an option [LEDs will follow the yellow line in the photo]). And then a top-center gauge for whatever you'd like. With ALL of the clusters, the background will be BLACK.
EVERY GAUGE (except speedo and tach) can be custom done... if you don't want gas level, you don't have to have it. If you have EGT, Oil Pressure, Voltmeter, Engine Temp, Oil Temp, etc... you can get it.
If you don't want to have all of the extra gauges, you don't need them - so, if you want just the original 4 in an LED setup, then that's what you can get. They've just offered up to 7 total functions - which I think is AWESOME!!!
As with all of their gauges, blue and red LEDs will be available.
Design 1:
Silver rings removed.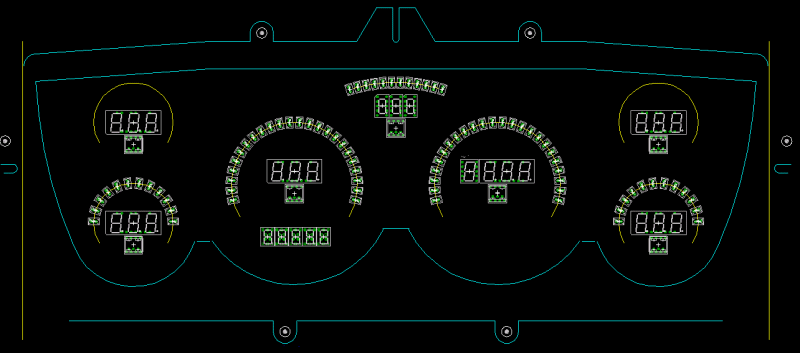 Design 2:
Silver rings present.
Design 3:
Completely custom look without silver rings...
This one wasn't completed. Look at the bottom left to get an idea of the slight curvature of the LEDs above the digital readout. All LEDs will have a minor curvature in the final product, however as I've stated, this one wasn't completed just yet.
Please vote so I can let them know what to go ahead and build!
Thanks,
Dave