to:

[email protected]

from: toasteroven

Below is your text with my revisions. Regards, toasteroven.

Sounds like the definition of cheap speed to me.

So? Lose weight.

Again, sounds like the definition of your article.

Spell check is a great thing.

So, aside at the real lame attempts at humor over all the acronyms the writer was too lazy to look-up, at least you tested the right version of the SRT-4; the ACR. And god forbid it have a decent suspension set-up. I mean, I know you guys like to drive around in your STS's all day, but the wallow of an STS as it screams around the track at Willow Springs doesn't exactly say "Cheap Speed" to me.

And it came in 3rd place in a SPEED comparison because it's interior wasn't up-to-par? You guys need to get your priorities straight.

Well, at least you didn't pick any competitors with drum-brakes.

Write bigger. Or get your asses out of the tight seats. Or, hey... TURN THE CAR OFF. Problem solved.

I'm surprised you're not complaining about the lack of memory seats, a flower vase, and auto-tilting rear-view mirrors. Of course, we all know how important the interior fit-and-finish is to someone who is concerned about CHEAP SPEED, so please - point out all the flaws that Dodge wallows in, and Acura excels in.

So, you're saying you need to know how to drive it. Gotcha. Then again, you got one of the lousiest 1/4 mile times out of an SRT-4 (

[email protected]

), so perhaps you need to learn how to drive first.

So, in other words, it lost points because it has a crappy interior, and goes fast as hell. Right. In a "Cheap Speed" comparo. And of course, far be it to shine the light on a car that won't be around in a few months when there are other cars that have manufacturers waiting to purchase advertising space for their continuing cars.

Funny, I have super-size drinks in my SRT-4 all the time, and I never spill them. You should get the hole in your lips checked out.

And if you're sipping espresso, you're not interested in "CHEAP SPEED".
Lol you are going to get a kick out of what they did now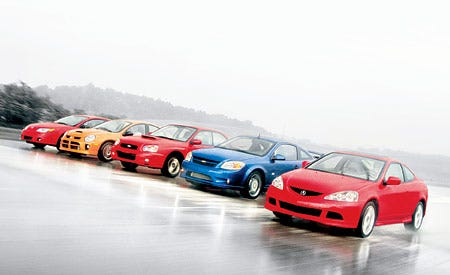 Cheap Speed: We compare five $25,000 tarmac torpedoes—Acura RSX Type-S, Chevrolet Cobalt SS Supercharged, Dodge SRT4 ACR, Saturn Ion Red Line, Subaru Impreza WRX—and discover five new ways to induce arrhythmia.
www.caranddriver.com
Notice "Cheap Speed" has been removed from the title all together?