·
Supporting Vendor (Gold), SRT of the Month
i posted a thread similaer to this in the DR section. but there seems to be more action going on in here. this run was at mooresville dragstrip. i've never had my car at the track before without it pulling timing or big boost leak. my best run before this trip to the track was a 9.2 at 80 (i think). my first run this time was a 8.7 @ 85. i then preceded to run 2 8.6s and 2 8.5s, then i finally pulled the 8.4. i think i might have done alittle better but the track prep went all to hell.
heres my timeslip:
r/t: .101
60ft: 2.084
330ft: 5.654
e.t.: 8.488
mph: 87.621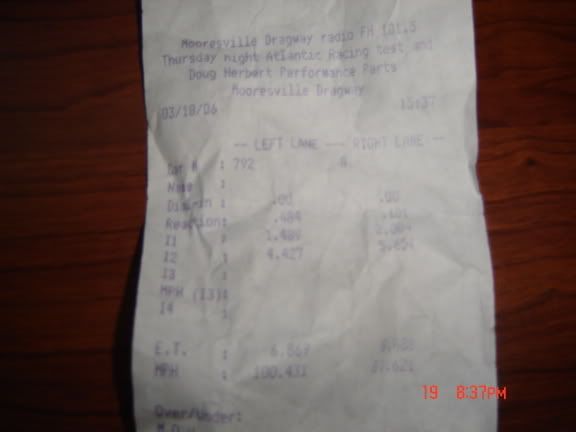 my mods:
stock ecu
CCA fmic
ED coldside hardpipe
AGP WGA 20psi spike and 15psi at redline
msd 8.5mm wires
ngk 4306 .032 gap
greddy type rs bov
AGP solid motor mounts
PTP AGP wga spring
3" turbo back exhaust dumping after rear tire under car
mapclamp
general exclaim uhp 225/45/17 with 20psi of air
fan switch
a/f ratio in low 11s
boost leak around tps sensor
VIDEO
i have since used sealed the boost leak around my tps sensor. at least i think, the intake manifold gasket tore when putting the manifold back on. i have another one on the way. but i'm pretty sure the leak is fixed. if that dosn't work for holding more boost i want to find a way that will.
also the next time i go i plan on running race gas, more boost, and clamping more with my mapclamp.
what do you think?
nigel