SRTforums Member
Join Date: Jul 2007
Location: Houston, TX
Posts: 139
Mentioned: 0 Post(s)
Tagged: 0 Thread(s)
Quoted: 6 Post(s)
Clogged catalytic converter?
---
Today I removed my downpipe because Iīm experiencing a lack of acceleration, overboost problems and strange behavior in my car (
see here
), it has a Thermal R&D 3 inch exhaust with cat and 3 inch o2 housing.
I just noticed the stainless steel around the catalytic converter turned to color blue and reddish. To me it looks like this area is overheating but I want your opinions.
Shoud I gut this downpipe? I still need to pass the visual inspection.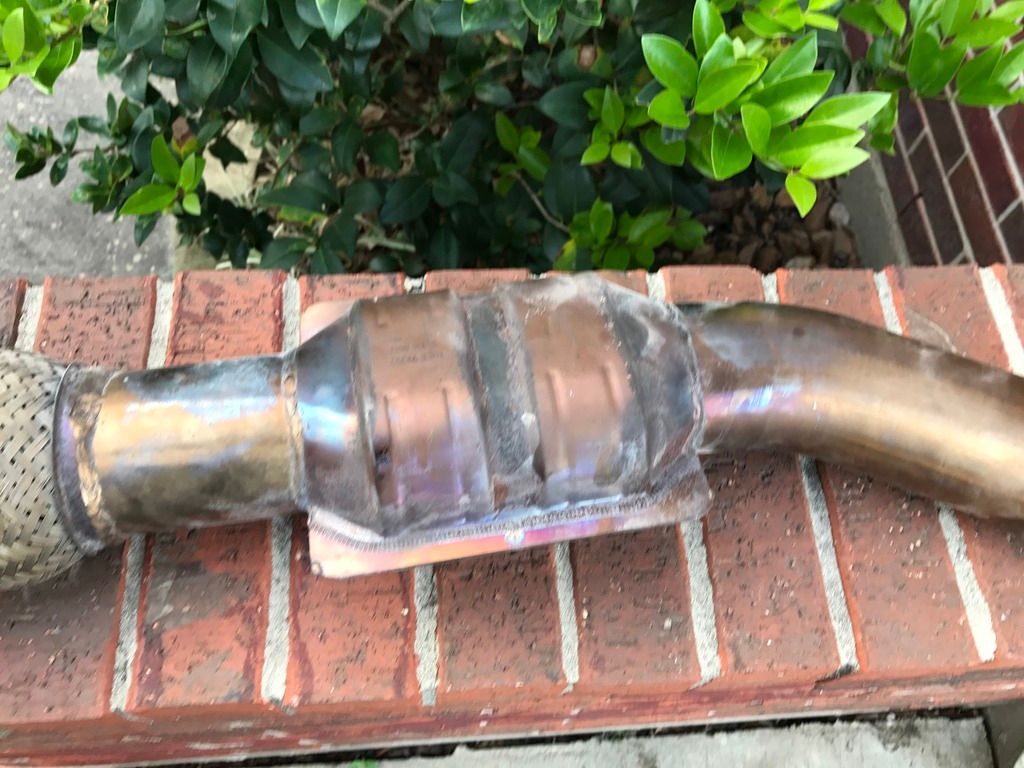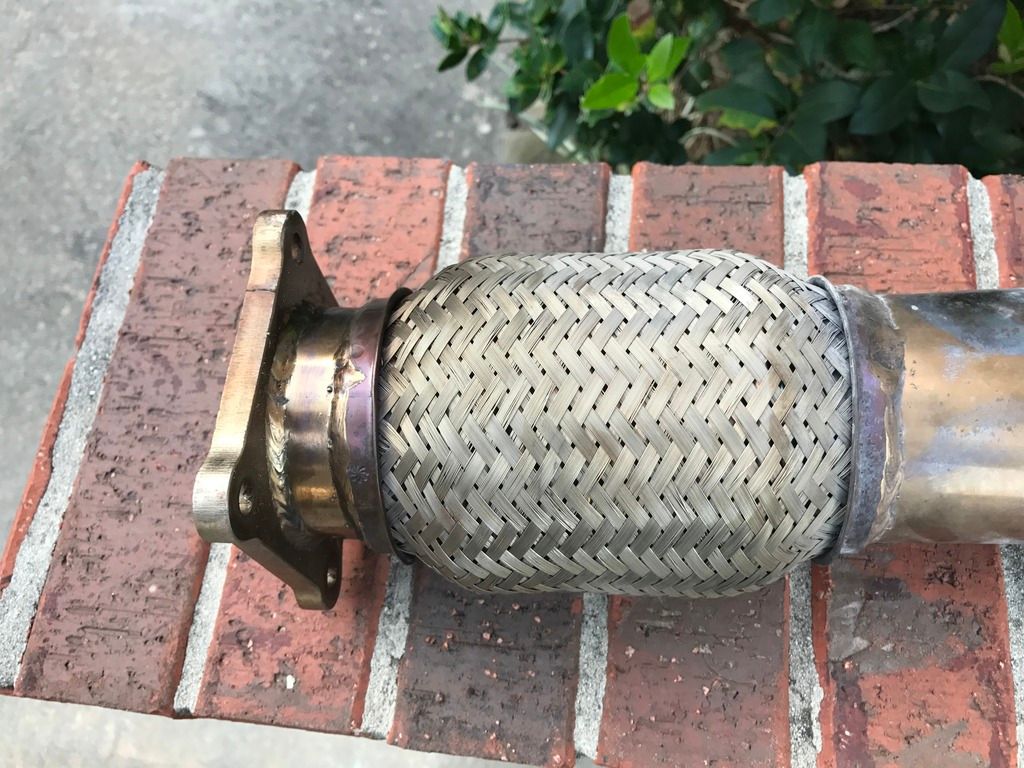 SRTforums Member
Join Date: May 2004
Location: nj
Posts: 2,445
Mentioned: 3 Post(s)
Tagged: 0 Thread(s)
Quoted: 159 Post(s)
looks like a normal cat to me, they get hot..

post pictures looking at the ceramic internals..it should look clean with "white powder" not clumpy like lava
---
405hp, 450tq
http://www.srtforums.com/forums/f451...w-123k-612933/
PCM=S0, DSP rescaled, 3bar map/tip
injectors= Siemens 80# (ebay $200)
built motor, 8.8:1 weisco, eagle-h, strap & windage
S3R DCR manifold ($500) w/evo8 turbo (ebay $150) - 20G/47# ebay ($200)
Evo 8 WGA
24x12x4 w/cast ends - CXRacing (ebay $200)
DataLogger DataQA, $25
Wideband UEGO (ebay $150)
vette rims 275/40/17
needswing v5
SouthBend S3
SRTforums Member
Join Date: Jul 2007
Location: Houston, TX
Posts: 139
Mentioned: 0 Post(s)
Tagged: 0 Thread(s)
Quoted: 6 Post(s)
It was white and didnīt looked clogged but I didnīt like the color and I gutted it anyways.
My studdering problem is solved and the cat was not the cause of the problem (sparkplugs and wires) but at least I have better acceleration now
SRTforums Member
Join Date: Nov 2003
Location: Boston, MA
Posts: 7,125
Mentioned: 0 Post(s)
Tagged: 0 Thread(s)
Quoted: 88 Post(s)
For future references if someone is looking, that bluing is normal for the stainless material. The SRT-4 runs pretty high exhaust temps (up to 1720°F pre-turbine) and run rich at wide-open throttle to aid exhaust cooling but that can temporarily increase catalyst temps. The common three-way catalytic converters on gasoline powered vehicles require around an 800°F internal operating temp.

Had you wanted to test it, you would have needed to do a pressure check with it on the car. Testing can be done by temporarily removing the upstream and downstream O2 sensors, install an adapter fitting and length of copper tubing (to provide cooling) and an accurate low-pressure range gauge on the end of the copper tubing. If you have a DRB-III or newer scan tool Chrysler's official test involves installing a pressure sensor in place of the upstream (pre cat) O2 sensor and idling the car at 2k rpms. The back pressure should be no more than 3.45 Kpa (0.5 psi).
---
Eric H. - '04 Neon SRT-4 (eBlue/S2) - '04 SRT-4 (blk/stock & now sold)
'92 Dodge Daytona IROC R/T --- -- '91 Dodge Spirit R/T
plus a couple other turbo Dodges, a Cobalt, a couple Focus, big S/C wagon, and some other stuff...
Posting Rules

You may not post new threads

You may not post replies

You may not post attachments

You may not edit your posts

---

HTML code is Off

---